For anyone considering moving to Poland or even visiting, knowing how much groceries cost is worthwhile information to have. I spent some time today looking through receipts and also browsing the aisles of the Carrefour supermarket in the basement level of the Złote Tarasy shopping mall in downtown Warsaw.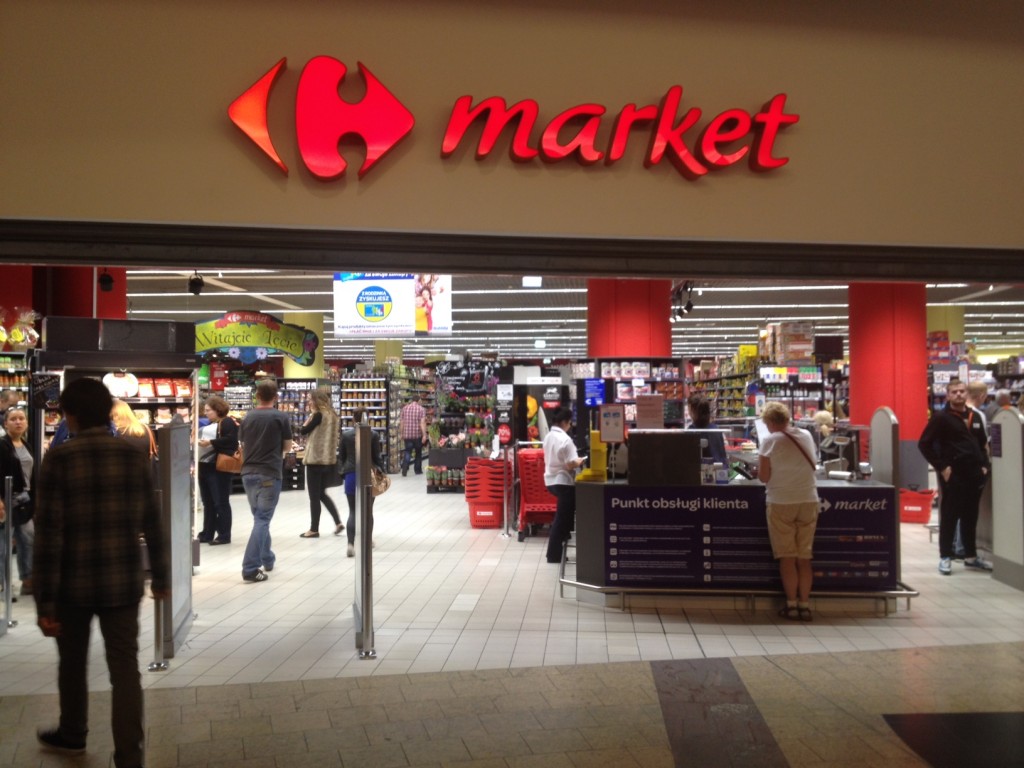 Carrefour is one of the largest grocery store chains in Poland. The largest is probably the British chain, Tesco. Given Tesco's size I think prices are probably even more competitive there, but I don't have one within walking distance. There are also smaller markets such as Biedronka (Ladybug), Lux and Żabka (Frog, Poland's equivalent of 7-11). There are also a plethora of mom and pop grocery stores and even street vendors who sell produce brought in from the countryside out of their cars or on the sidewalk. With the exception of produce sellers on the street, prices for most items are likely to be higher in the smaller stores, though they are convenient. For the budget-conscious man, most groceries should be made in a store like Tesco or Carrefour (or their equivalent in other parts of Poland such as Piotr i Paweł [Peter and Paul]).
The list below includes a wide cross-section of items, even including some household items that you may need to purchase. Prices are subject to change depending on the season and availability of items, but these are accurate as of this month (I checked most of them today).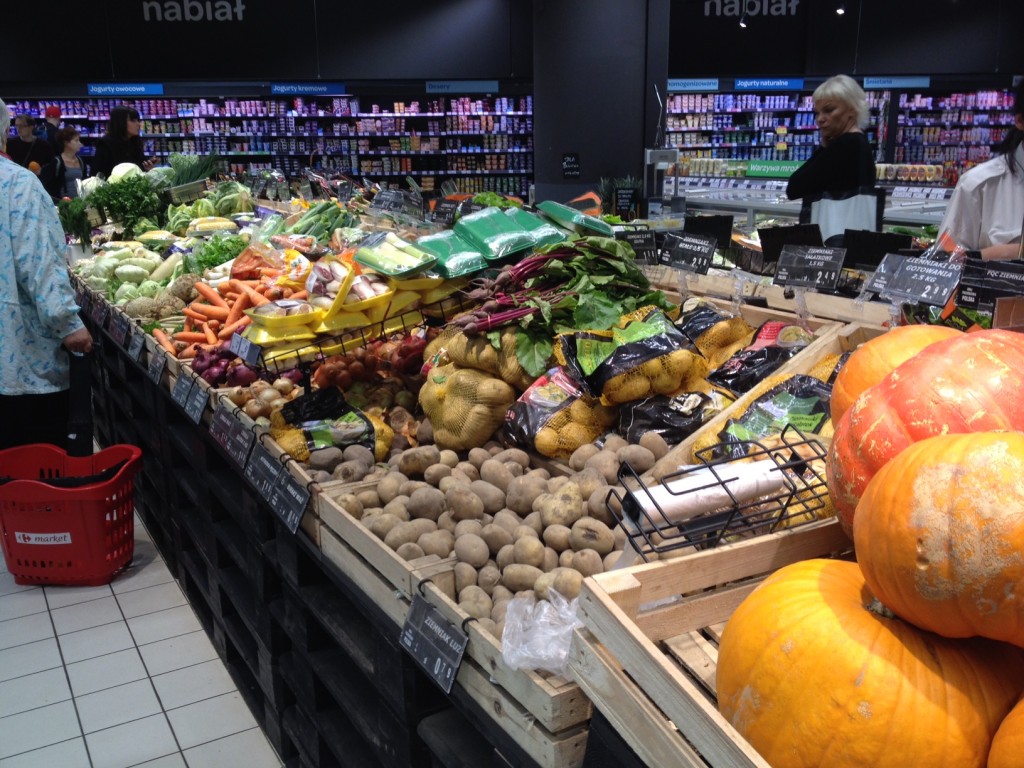 I can't think of anything of the top of my head that's unavailable in Poland that I could buy back in California. There are surely some items, but it mostly comes down to price. There are more and more specialty food shops, including organic food stores where you can buy all sorts of things.
If there is any other type of food or other item you'd buy in a supermarket that you'd like me to check the price for, let me know in the comments. Future posts will included prices for coffee shops and restaurants, from fast food to fine dining.
I included the dollar price for the first dozen or so items, for the others you can run the numbers. $1 is roughly 3 złoty. Divide any of these prices by 3 and it'll be close to the actual dollar amount. The złoty has fluctuated between 3.10 and 3.25 to the dollar in the last month.
3.25zł = 1 dollar
1 liter = 0.26 gallons
1 kilogram = 2.2 pounds
500 grams = 1.1 pounds
Almonds (240g): 22.99zł [$7.05]
Almond milk (1 liter): 14.99zł [$4.60]
Apples, Granny Smith (1kg): 4.99zł [$1.53]
Aronia berry juice (1 liter): 18zł [$5.52]
Aronia berry and apple juice, fresh: 3.79zł [$1.16]
Baguette, small: 2.09zł [$0.64]
Bake Rolls crackers: 2.59zł [$0.79]
Bananas (1kg): 2.99zł [$0.92]
Beef steak (1kg): 28zł [$8.59]
Beer, Ciechan honey (0.5 liter): 4.73zł [$1.45]
Beer, Ciechan strong (0.5 liter): 3.20zł [$0.98]
Beer, Erdinger dunkel (0.5 liter): 5.99zł [$1.84]
Beer, Paulaner dunkel (0.33 liter): 4.09zł [$1.25]
Bell pepper, red (1kg): 4.99zł [$1.53]
Blueberry jam (280g): 5.99zł
Bread roll (each): 0.29zł
Bread, white toast (750g): 5.19zł
Broccoli, frozen (450g): 6.09zł
Cabbage, red (1kg): 1.49zł
Carrots, fresh (1kg): 1.19zł
Carrots, frozen (450g): 3.49zł
Cashews (240g): 24.99zł
Cereal (300g): 6zł
Cheese, Gouda (1kg): 25zł
Cheese, Radamer (1kg): 30zł
Chicken, drumsticks (1kg): 9.99zł
Chocolate bar with hazelnuts: 8.20zł
Chocolate chip cookies: 4.39zł
Chocolate-covered hazelnuts (80 grams): 4.29zł
Cleaning spray, Ajax: 14.29zł
Cod (1kg): 15.99zł
Corn on the cob (each): 1.39zł
Couscous (250g): 2.99zł
Dr. Pepper (1 liter): 4.69zł
Eggs, 15-count: 6.49zł
Flax oil (1.5 liter): 54.99zł
Flour (1kg): 1.99zł
Grapes, white (500g): 5.99zł
Ham, deli sliced (1kg): 26.99zł
Honey: 27.99zł
Ice cream, Movenpick brand (900ml): 17.19zł
Laundry detergent, Vizir (2.8kg): 45.99zł
Lettuce (head): 2.19zł
Lightbulb, standard: 7.99zł
Milk, 2% (1 liter): 2.29zł
Oats, organic (450g): 2.99zł
Olive oil (500ml): 22zł
Orange juice (1 liter): 4.75zł
Oranges (1kg): 6.99zł
Pasta noodles (500g): 4zł
Pasta sauce (500ml): 5.39zł
Pecans (240g): 24.99zł
Potatoes (1kg): O.79zł
Rice (1kg): 2.99zł
Salmon, Norwegian (100g): 5.99zł
Sausage, white (1kg): 15.99zł
Spaghetti noodles (400g): 1.01zł
Spinach, frozen (400 grams): 5.49zł
Strawberries, frozen (450g): 6.67zł
Tilapia (1kg): 18.89z
Tomatoes (1kg): 7zł
Turkey, deli sliced (1kg): 28.99zł
Vodka, Pan Tadeusz, aronia flavor (500ml): 29.99zł
Vodka, Wyborowa (1 liter): 50.39zł
Water (6 liter bottle): 4.29zł
Watermelon (1kg): 2.99zł
Whiskey, Johnnie Walker Black (700ml): 99.99zł
Whiskey, Johnnie Walker Red (700ml): 52.35zł
Yogurt, drinkable: 2.69zł
Yogurt, Greek: 4.09zł