Although Poland is a European Union member state, it hasn't transitioned to the Euro. It's currency is the Złoty or PLN ("złoto" means "gold"). The exchange rate has fluctuated a lot over the past several decades as Poland has emerged from being a communist satellite state with a command economy, to a free-market oriented democracy. To date in 2014 the exchange rate has fluctuated from 3.03 to 3.31 złotys per $1 (USD).
Cash is the primary method of payment I use in Poland. By withdrawing a set amount of cash every couple of weeks, I have an easier time of budgeting and tracking my expenses over time. I'm also wary of surcharges for using credit and debit cards and out of an abundance of caution, prefer not to carry cards around, unless I'm traveling out of the country.
Kantors
The most common way for travelers in Poland to obtain PLN is to exchange their country's currency at money changers called a "kantor". The kantor will have a table like the one pictured below that will list the exchange rates for various currencies in relation to the PLN. It's important to note that the "Kupno" ("Buy") rate is what you will receive in Złotys, while the "Sprzedaż" ("Sell") rate is the amount in Złotys it will cost to buy one unit of your chosen currency. Looking at the picture below, the kantor would "buy" 1 USD from you for 3.48 PLN, while he would "sell" you 1 USD for 3.61 PLN.
This is one of the ways that kantors make money, by charging travelers a higher rate for buying a currency other than the Złoty (this is standard practice with money changers around the world). To further illustrate the example, at these rates $100 could be exchanged for 348 Polish Złoty.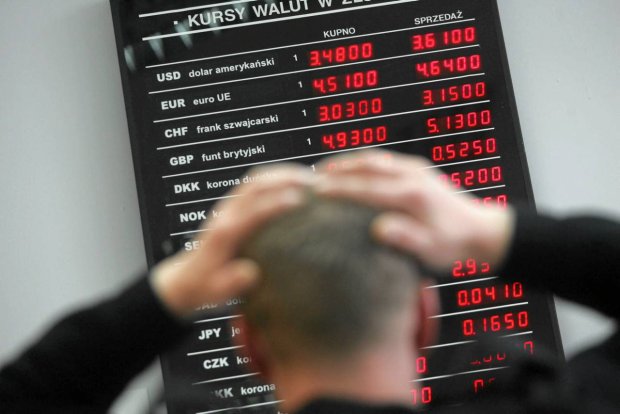 Travelers need to be abundantly cautious with kantors and their equivalents around the world. Though most travelers are savvy enough not to get gouged when exchanging currency by first using tools like Google's currency converter to check rates, a certain number of money changers will offer ridiculously bad rates that some people will fall for.
Several years ago I was even fooled at one of these kantors (on the Krakowskie Przedmieście in Warsaw near the Royal Castle) and received only 220 złotys in exchange for $100, roughly a 30% commission! The worst rates will always be around tourist areas and airports. If you check the rates online in advance, you'll be prepared to exchange currency. In Poland today the official exchange rate is 1 USD for 3.31 PLN. At a kantor a good rate would be 1 USD for 3.26 PLN, representing about a 1.5% commission.
ATMs
My preferred method of getting cash is withdrawing PLN from my USD based checking or savings account at my credit union in California. I am not charged any ATM fees (as long as my savings balance stays above $2,000) and the exchange rates are very close to the official rates. Last week I withdrew cash at a rate of 3.30 złoty per dollar, while the official rate was roughly 3.306.
As a rule I don't use ATMs on the street as a matter of safety (though Poland is a safe country, it's an extra precaution). Many banks will have ATMs indoors that can be accessed after hours by swiping your ATM card. I also prefer to go to banks that are known to me, namely Citi Bank in Warsaw.
In Poland an ATM is called a "bankomat".
Banks and Credit Cards
I've read that banks are the best place for exchanging currency and that it is best to pay with a credit card. I haven't checked this personally, but it is worth exploring if you are a traveler. I think that the banks exchange rate is probably the same as the rate you receive when withdrawing from their ATM (assuming you aren't charged fees).
The one time I've used a credit card in Poland this year (when purchasing a TV at the Saturn electronics store in Warsaw) I was asked whether I wanted the charge to be in USD or PLN. I chose USD and ended up being charged a non-refundable $20 fee on top of the purchase price. In the future I would opt to be charged in PLN, but it's a lesson to do your research beforehand.
It's inevitable that you'll be scammed out of some money while traveling, whether it's overpriced food, lodging, alcohol or exchange rates. You can chalk these up as learning experiences that show you how a minority of any country's population makes a living from skimming off of the naivete or ignorance of travelers. The key is to avoid situations that separate you from a big chunk of your money.
When traveling to foreign countries, be sure to inform your bank that you will be traveling (including the specific countries and dates of travel) so that your credit and debit cards won't be frozen when you try to use them abroad. You should do this at least a week before departing so that it enters their system.
Conclusion
When I planned a short trip to Lviv, Ukraine in 2012, I was interested in converting some dollars to Hryvnya, the local currency. It turned out that the rate in downtown Warsaw was terrible, while the pit stop that the bus made at the border next to a row of small, money exchange huts, yielded almost the exact, official exchange rate. Your own experience will teach you where to get the best bang for your buck (or Pound, or Euro, or Yen, …)
When traveling, bring a decent amount of cash with you, even if you plan on making most purchases with a credit card. You never know if your cards will be frozen or fail to work through a technical error. Even if you can't get the local currency for some reason, having some $20 or $100 bills might prove more valuable than anything you could say in the local language.