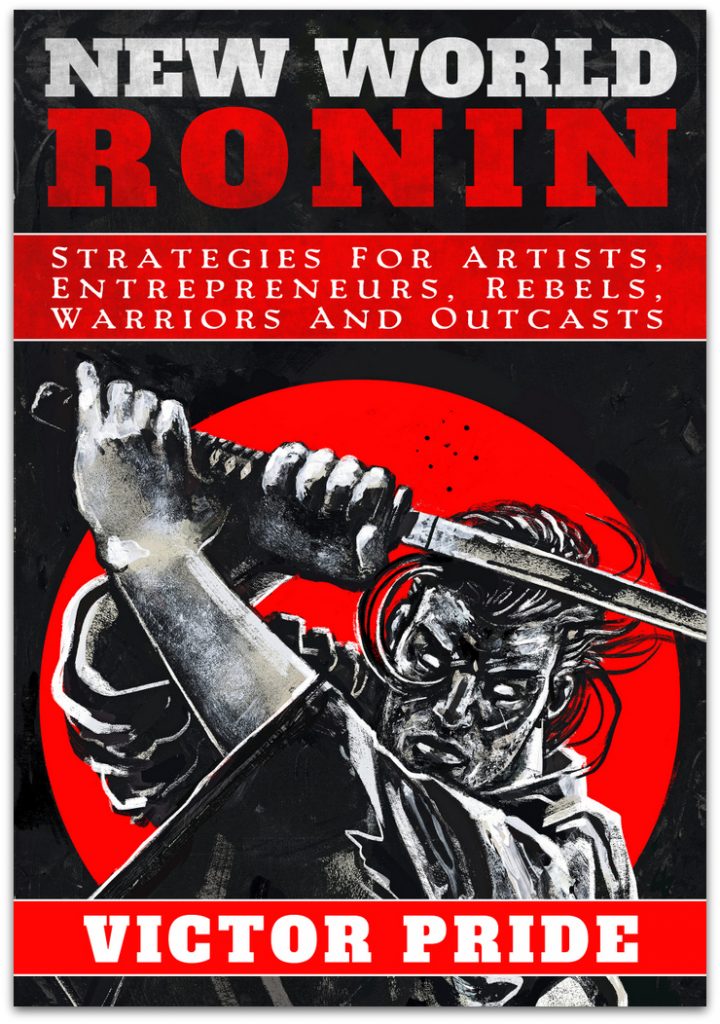 There has been no better time in history to start a business. The tedious life of a corporate, office worker is not getting any better. If anything, the same technology that allows the modern entrepreneur to work from almost anywhere in the world is used to squeeze and prod worker bees to greater "productivity".
Victor Pride (now known by his real name, Nick Kelly) has become a shogun of 21st century, online business. He has made over $1 million from his website, Bold & Determined, over the last four years. He could retire now, move to a low-cost-of-living country like Vietnam or Poland and not work another day in his life. Victor isn't the type to take it easy though. His unique brand of intense motivation has become his hallmark. His newly released book, New World Ronin: Strategies for Artists, Entrepreneurs, Rebels, Warriors and Outcasts defines his business and life philosophy.
The New World Ronin (NWR) have: "…cracked the code and learned the ways of walking alone and has spent his time in the jungle, working alone and getting paid. Financial status-well off. Self-made and self-paid. Entrepreneur. The New World Ronin sees in full color."
Unlike virtually all other books on business that state information in a mater-of-fact manner, Pride's approach is decidedly philosophical and mystical, though still concretely and immediately applicable. The influences visible throughout the work are Miyamoto Musashi and The Book of Five Rings, Greek mythology and more recent history like the business examples of William Randolph Hearst, the newspaper magnate, and Mary Kay Ash, the cosmetics empress.
The terms used in NWR are intentionally esoteric to the uninitiated. The glossary of terms used in the book was published in a blog post shortly before its release. "Ronin in training" aspire to become "New World Ronin" (NWR), "self-made and self-paid" men. "Ghosts" are average people who work 8-5 jobs and can't comprehend another reality, they will try to discourage aspiring ronin to abandon their plans as a way of preserving their ego-investment in their own existence. The "War Room" is the place where the NWR creates "Black and White Work" (routine, daily work that runs a business) and "Full Color Work" (highly focused, creative endeavors that generate new money for the business, e.g., writing a book). Becoming a NWR is predicated on committing "Corporate Seppuku", which means leaving your salaried job to pursue freedom through entreprenuership. "Red is Green", the artist bleeding integrity and honesty (red) to achieve a financial reward (green).
A brief but critical part of the book suggests how to arrange your "War Room". Some of the immediate changes that I made to my environment were to rearrange my desk and buy three large-leafed plants. I'd like to get a large, wooden desk one day like Victor suggests, but given the limits of space I'm fine with this for now. Besides the visually appealing aspect of having greenery at home, the plants serve the purpose of purifying the air. I see it as a complement to my air purifier, which is clutch while living in the middle of the biggest city in Poland, especially when neighbor's cigarette smoke has a tendency to creep inside.
If there are three main lessons I took away from NWR they are these: work extremely hard, don't ask how long it will take, just start.
Though Victor characterizes what he does now as fun and not work, there is no doubt that starting a business entails a lot of very hard work in the beginning. It's more than likely that a budding entrepreneur will spend far more time working than the eight hours a day an office drone does, perhaps even 12, 16 or 18 hours a day.
One of the most common questions asked before starting a business is "how long will it take to be successful?" Victor's pat reply is that it's the wrong question to ask, "it takes as long as it takes". While this may seem discouraging at first, it's actually a reassurance to realize that as long as you commit yourself to the work, there is no way you can fail. It may take a year or ten years, but you'll achieve your goals and probably far more than you anticipated as long as you don't expect it all to fall into place within a preset timeframe.
Another common question before beginning any knew project is "how do I start?" Again this misses the point. You start by starting. Don't be a perfectionist before you've even put a paintbrush to canvas. You won't know how to start until you start. You'll inevitably make mistakes along the way, but this is the best way to learn, from personal experience. No one is generically going to show you how to succeed in business. They can inspire you with the right mindset like Donald Trump does, but unless you're asking someone specific questions about a particular business that you are also entering, you just have to get the ball rolling.
I was a late bloomer when it came to learning how to swim. I was 9-10 years old and about a foot taller than the 6-7 year-olds in my beginners group. Part of the test to go to the next level one summer was to swim across the deep end of the pool to the other side. Halfway through the swim my mouth filled up with water and I started choking. I was thrashing around in the water, on the verge of calling for help.
As ugly as it may have looked, I finally forced my way to the other side. I learned more about how to swim in those 25 yards than at any other time. Sink or swim. There is no going back.
I'll admit that New World Ronin came off as a pretty esoteric book at first. Having read plenty of Victor's work over the years though I can begin to see the method to the madness. NWR is just the beginning of a new journey that Victor is himself embarking on, and essentially an invitation to the reader, the aspiring Ronin, to join him.
He's putting his money where his mouth is by using Bold & Determined as a case study to demonstrate exactly how he practices what he preaches. His content focus since releasing the book has been podcasting and YouTube (the Godcast he calls it). Hes released 20+ new episodes in just the past few weeks. Following Bold & Determined as a complement to reading NWR is a priceless lesson in entrepreneurship, achievement and vision. Victor's style may be abrasive to a lot of people, but it definitely is original and honest. Take a listen, you'll learn a ton.
Check out New World Ronin: Strategies for Artists, Entrepreneurs, Rebels, Warriors and Outcasts, one of the best books on business you will read.